The Skybridge Information Management Online Network (SIMON) is Skybridge's in-house workflow management system. SIMON is configured to enable the customer journey to be processed and monitored by the program team, and facilitates input from other stakeholders (Contractors, end users and service providers) without the need for manually exchanging data between systems.
Through SIMON, new staff can be quickly trained to manage a specific area of the customer journey, for example: assigning Contractors to upcoming jobs. This allows us to ramp up our workforce in the case of a demand surge.
SIMON has been developed from the ground up for Skybridge. Its central data repository facilitates streamlined communication with all stakeholders. SIMON is proven to facilitate scale in a rollout program, while maintaining exacting quality and customer service standards.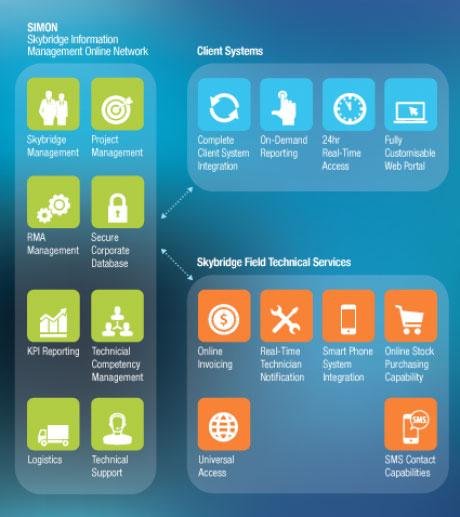 Skypad – The Companion "App" to SIMON
The on-site aspect of the customer's experience is facilitated through the mobile Skypad app, used by our Contractors. Skypad guides the Contractor through the installation process and ensures that all supporting data is captured, including site safety analysis, photographs of completed work, customer sign-off and performance data.
Skypad incorporates 'lockstep' technology. Essentially, each response provided by a Contractor is validated prior to allowing the user to proceed to the next step. It also provides an even higher level of data accuracy. By utilising lockstep technology in Skypad, our developers have been able to map the logic behind job outcomes onsite with post-installation activities to ensure that each job is correctly closed off.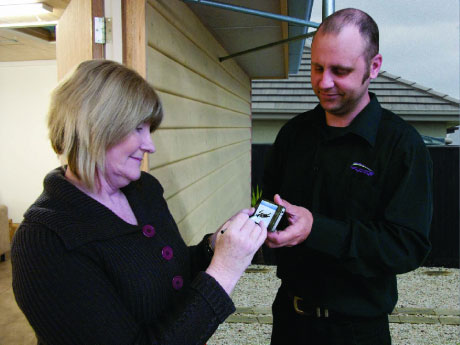 Client Portal
SIMON's client portal provides our clients and other stakeholders with real-time information relating to completed and upcoming work orders, as well as automated reports and SLA reporting. For each completed work order, our client has immediate access to data captured on site, as shown below. Additionally, this data can be accessed through our integration layer, for clients requiring job completion information to be transferred to their own ERP or OSS/BSS.
Features of the Client Portal include:
Service Level Agreement Reporting – all SLAs reported are specific to your program's requirements and are updated in real time when each field activity is complete.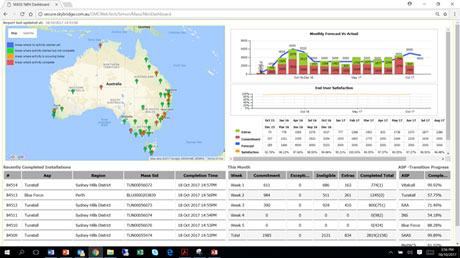 Job Search – through the client portal, you can view the details of any work order in progress or previously completed.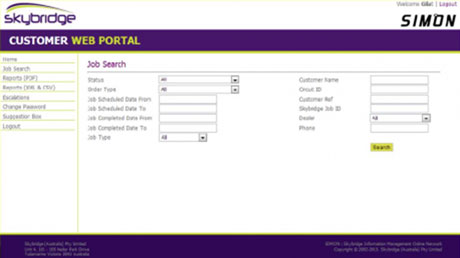 History Log – the history log provides a full list of every activity performed for every work order submitted to Skybridge. This provides our clients with visibility of our services, as well as a means to respond to customer queries.